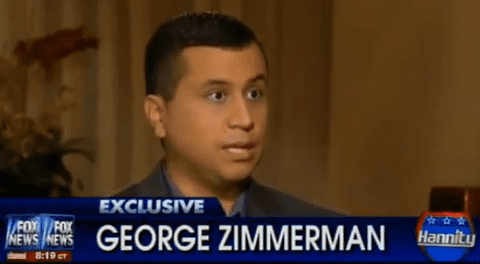 George Zimmerman sat down with Fox News' Sean Hannity for his first interview since allegedly shooting and killing 17-year old Trayvon Martin.
It's a long interview, and I've included it in its entirety AFTER THE JUMP, but here are a few highlights: Zimmerman insists that, contrary to what some people think, he is not a racist — "I'm not a racist and I'm not a murderer," he said; the 28-year old also claims Martin said "you're going to die tonight" before reaching for Zimmerman's gun; and Zimmerman also tells Hannity he doesn't regret the sequence of events that fateful night, including taking his gun with him.
"I feel that it was all God's plan, and for me to second guess it or judge it…" he then trailed off.
Responding to Zimmerman's comments about God, Trayvon's father, Tracy Martin, remarked, "We must worship a different God. There is no way that my God wanted George Zimmerman to murder my teenage son."
Watch a snippet of Zimmerman's 'God's plan' remark as well as the entire interview AFTER THE JUMP.