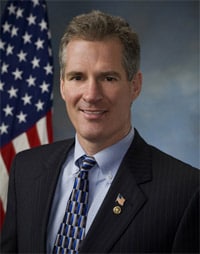 Senator Scott Brown (R-MA) was asked about Boston Mayor Thomas Menino's letter to Chick-fil-A urging them to "back out" of Boston, and his own opinion on the controversy:
"I disagree with what the CEO from Chick-fil-A said. I was glad he spoke further and said that his company does not discriminate," Brown wrote from his South Boston campaign headquarters.
Noting that Massachusetts has strong antidiscrimination laws that could prevent problems should the company decide to set up shop in Boston, Brown added, "If they move forward with the location proposal, I trust the mayor and other officials will ensure that those laws are honored."
In case you missed it, over the weekend NYC City Council Speaker Christine Quinn took a hard line on the issue, asking NYU President John Sexton to kick the chicken chain's restaurant off its campus.
Also, Nancy Pelosi said she prefers KFC, while Washington D.C. Mayor Vincent Gray declared Chick-fil-A "hate chicken".