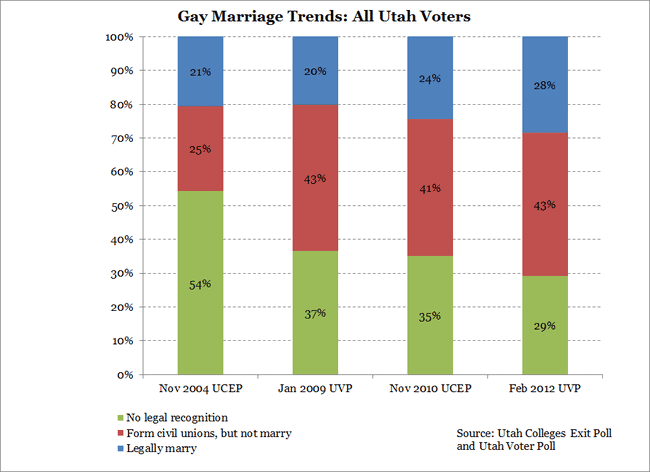 There are two ways to look at a new poll about Utah voters' opinions on marriage equality, civil unions and general legal recognition for same-sex couples.
One view is that 72% of the state still opposes gay marriage and that 57% oppose civil unions.* The other, more positive view is that opposition to equality has dropped seven points since 2004 (said even more positively, support for equality has risen seven points); support for civil unions has jumped from 25% to 43% — 18 points; and support for some kind of legal recognition, whether it be civil unions or marriage, jumped from 46% to 71%, according to a survey conducted by Brigham Young University's Center for the Study of Elections and Democracy.
And it seems support has grown across all political demographics:
The increase in support for civil unions in Utah can be seen across several groups. In 2004, only 23% of Utah Republicans and 27% of Independents were in favor of civil unions. Now, 53% of Republicans and 48% of Independents express support. Furthermore, among both of those groups, opposition to any legal recognition of gay relationships has declined.

Among Democratic voters, support for civil unions has declined as voters move toward support of gay marriage. In 2004, 31% of Democrats were in favor of civil unions while 55% supported gay marriage. Now, only a quarter of Democrats prefer civil unions while 72% favor gay marriage.
But, back to the negative real quick: as in years past, GOP support for marriage equality is in the single digits: 5%. The religious breakdown is equally grim.
I've included some of the Center's graphs AFTER THE JUMP — the images pop-out for easier read — but do take a look at the entire study.
*Good point in comments re: assuming the marriage people oppose civil unions. Many would prefer civil unions to nothing, surely, although perhaps not all.