Cardinal Timothy Dolan, an outspoken opponent of equality, will deliver the closing benediction at the Democratic National Convention one week after doing the same for the GOP, RNS reports: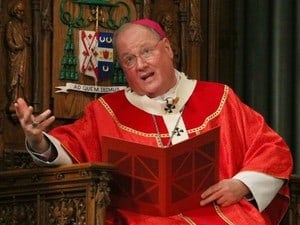 The Obama campaign also revealed Tuesday (Aug. 28) that Sister Simone Campbell, the popular face of the recent "Nuns on the Bus" tour for social justice, will be addressing the Democrats in Charlotte, N.C., the night before Dolan's appearance.
That is kind of a Catholic "two-fer" that threatens to upstage GOP nominee Mitt Romney's Catholic outreach and highlights the importance of this swing vote in a deadlocked race.
The Catholic League's Bill Donohue clucks:
Over the past week, Cardinal Dolan has been hammered by liberals for accepting an invitation to give benediction at the Republican National Convention (RNC). Now that he will close both conventions, they look even more foolish…
…The fundamental difference between Cardinal Dolan and these critics comes down to one thing: he is a man of principle and they don't know how to spell the word. He invited President Obama to the Al Smith Dinner, knowing he would receive flak from some on the right. Then he agreed to speak at the RNC, knowing he would be blasted by some on the left. Now he has accepted an invitation to speak at the DNC and none of his critics—on both the left and the right—can figure him out.
What this shows is that Cardinal Dolan is able to rise above the politics of the moment. But to those who view the world exclusively through the lens of power, this is completely unintelligible.