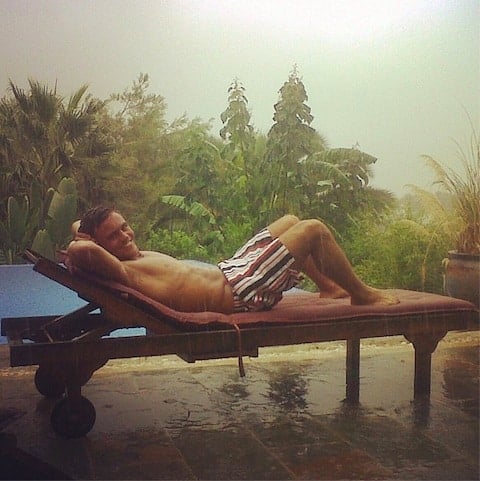 Had enough Tom Daley yet? We didn't think so. See below. (image via instagram)
We are into day two of the Republican National Convention and as Hurricane Isaac settles over the gulf coast, Michelle Bachmann is also blowing a lot of hot air in Tampa. Planning on skipping Chris Christie's keynote speech tonight? Get a preview from the man himself. With all eyes on Tampa, Young Conservatives and Gay Republicans want to remind you that they stand for marriage equality. A definite foe of marriage equality is Timothy Dolan who doing double duty now that he is on the schedule for the Democratic Convention. Meanwhile, Rep. Aaron Schock pops on a shirt and tells us what he thinks about gay marriage. Also, MoveOn warns against getting stuck under Romney and Ryan's boots at the RNC this week. 
Wanna feel sick? Check out this undercover report from an anti-gay NOM student conference in San Diego. North Carolina is all over the news today. First CNN declares that it's a toss up. Then, on a less exciting note, NOM brings out an anti-gay extremist in an attempt to target African-American voters. Australian TV says no to homophobia! Anti-gay Minnesotans are being very camera shy. Have some pride in your work ladies! Jeez! Also, San Francisco's Archbishop was arrested for a DUI, but his mom still loves him. And while Aaron Sorkin's Newsroom may have some weaknesses, its attack on the Tea Party during the season finale was pretty spot on. 
The Olympics may be over but that doesn't mean we have to stop ogling Tom Daley. Does it? Novak Djokovic opens his Us Open defense tonight and he's already got a marriage proposal from an unlikely source. Todd Akin gets some new (probably unwanted) friends in the form of a dragapella group. A sweet moment from The X-Factor and a cuteness overload in the form a swimming koala to end your day.