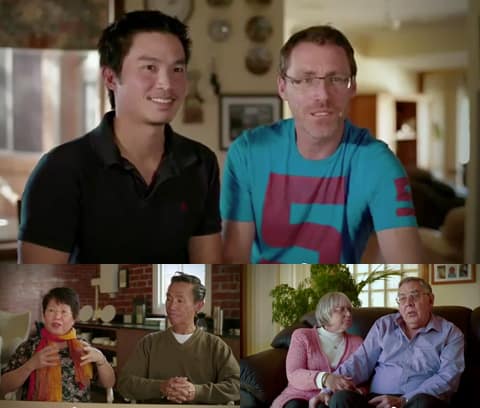 A touching new ad from Australian Marriage Equality focuses on the link between marriage and family and features two families that have been brought together by the relationship between their gay sons.
Check it out, AFTER THE JUMP…
An extended version of the ad will be released in the coming days.
A new poll released on Monday shows nearly two-thirds of Australians support marriage equality:
The Galaxy poll shows 64 per cent of people believe same-sex couples should be allowed to marry – up two percentage points from February. But only 58 per cent of men back changing the law compared with 70 per cent of women. The poll was commissioned by lobby group Australian Marriage Equality.
"Support for marriage equality has risen to its highest point ever because Australians are increasingly realising that marriage equality will strengthen relationships, families and marriage," spokesman Alex Greenwich said in a statement.
The new poll comes on the heels of an announcement by Tasmanian Premier Lara Giddings that her state will be leading the way on marriage equality: "We will be leading the way for the rest of Australia to follow. There are nations across the world who have already taken this step, some of whom that you would not believe would have done this in advance of a nation like our own."