Christine Quinn sent a strongly-worded letter over the weekend to NYU President John Sexton urging him to boot Chick-fil-A from his campus.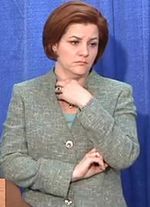 Said Quinn in the letter: "I do not want establishments in my city that hold such discriminatory views. I urge you to sever your relationship with the Chick-fil-A establishment that exists on your campus. This establishment should be replaced with an establishment where the ownership does not denigrate a portion of our population."
Yesterday, in a talk with reporters, Quinn clarified her remarks, saying she would not use her office to get rid of the chicken chain, the NY Post reports:
"I support businesses that are open and inclusive, that reflect the viewpoint of New York City, the most diverse city in the world. That said, businesses that follow our laws have a right to open here. I don't want businesses that hold discriminatory views and feelings, but I don't have any legal recourse or reason to block this company. I'm raising my voice, which can be loud at times, but I'm never going to misuse this office in any way at all."
The statement brings her more in line with NYC Mayor Michael Bloomberg, who told reporters that it's "not government's job" to block businesses based on their political beliefs.