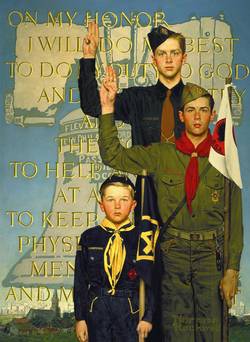 "It is not an easy thing to give up your Eagle. It sounds silly, but it's very emotional, you know, if you've been in Scouts as long as most of us guys have," Bill DeVos, a former Eagle Scout master from New York State, said in a recent interview.
Like many other Scouts, DeVos decided to return his badges after the Boy Scouts of America announced last month that it's standing by its discriminatory rule banning openly gay members and leaders.
NBC News offers new details:
[DeVos] joined dozens of other Eagle Scouts who said in online postings that they have sent back their medals, badges or certificates… DeVos was hoping to remain part of the Scouts organization and push for change from within, but others who returned medals said they were done with the organization.

A spokesman for the Boy Scouts of America, Deron Smith, said 50,000 Scouts earn the Eagle rank every year, and that a "few" had returned their medals, badges or certificates since July 17. When asked for a precise number, Smith said it would be hard to say since there was no standard way to return the items.

"While a majority of our membership agrees with our policy, we fully understand no single policy will accommodate the many diverse views among our membership or society," Smith said in an email. "Naturally, we're disappointed when someone decides to return a medal, but we respect their right to express an opinion in whatever manner they feel is appropriate."
Perhaps it's high time someone start a new organization to rival the Boy Scouts?