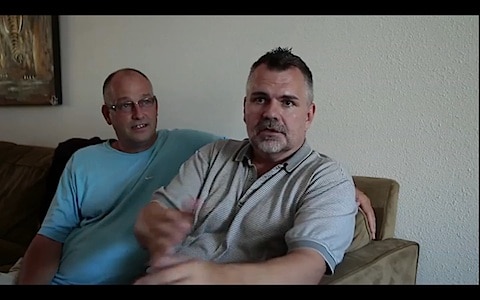 Steven and Roger Ham a gay couple living in Arizona are raising 12 children from foster care. Two of the children they were able to legally adopt in Washington, where same-sex couples can adopt and both be listed as the child's parent. After their story was publicized last year, an angel attorney by the name of Shelly Krebs stepped in to help the couple adopt the 10 other children. They are all now an official family.
With only one legal parent, children in gay households are not entitled to health and Social Security benefits, inheritance rights or child support from the other parent. If a gay couple splits up, only the legal parent has custody rights. Steven and Roger could re-adopt the kids somewhere else that allows same-sex couples to adopt together, but it is expensive, about $1,500 for each child. Steven says there always seems to be more pressing financial needs.
Besides, names on paper don't mean as much as what the kids experience every day. The kids call Steven "Dad," and Roger "Papa." But Shelly Krebs, an attorney in Vancouver, Wash., who did Isabel and Logan's adoptions, made the Hams an offer. She would handle the adoptions of the 10 other kids for about the cost of one.
Reached by phone last week, Krebs brushed aside what she had done as her work: "I basically made happen what could happen under the law."
She helps place children with no families into stable homes where they will be cared for by parents who love them — in this case, both parents.
"As a businessperson, it's a little more paperwork, and it's a little more time for me," Krebs says, and pauses. "The world is not always about time and money."
Watch an interview with the couple, AFTER THE JUMP…