A Frederick, Maryland Chick-fil-A has been hit with vandalism, the Frederick News Post reports: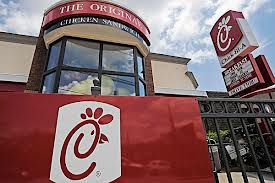 The Frederick County Sheriff's Office responded to the restaurant, at 5501 Urbana Pike, early Sunday morning after the store reported destruction of property. Cpl. Gregory Santangelo said the items glued to the store's windows included marriage equality stickers and an image with the American and gay pride flags combined. There were also several homemade signs, he said.
The store hired a cleaner to remove the items early in the day, Santangelo said. Physical evidence and video surveillance of the suspect were collected at the scene, according to police.
Josh Levin, campaign director of Marylanders for Marriage Equality, spoke out against the vandalism:
"We abhor any vandalism or disrespect in this campaign," he said in a post on the campaign's Facebook page. "[We] remain focused on supporting all Maryland families and sending the message that gay and lesbian couples should be treated fairly under the law. We encourage our supporters to have conversations with folks they know who may be undecided on the issue. That's how we win."