On Saturday night, there was a roast for Roseanne Barr in Hollywood, and Jane Lynch kicked things off nicely, the Huffington Post reports: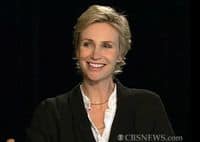 Before introducing the evening's honoree, Roseanne Barr, Lynch took a few quick jabs at the assembled roasters, which included Carrie Fisher, Katey Sagal and Ellen Barkin among others. Lynch quipped of the woman-heavy dais, "This show is serving up more old spoiled hens than a Chick-Fil-A. Oh, that reminds me… Fuck Chick-Fil-A. "
Judging from the riotous laughter and applause the joke received, there were few Chick-Fil-A Appreciation Day attendees in the audience.
The roast airs August 12 on Comedy Central.