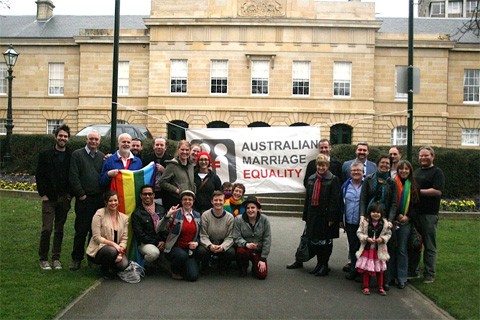 As Brandon mentioned briefly yesterday, the Australian state of Tasmania is likely to become the first to adopt marriage equality after a statement from its Premier Lara Giddings over the weekend:
"We will be leading the way for the rest of Australia to follow," Giddings, 39, told a ruling state Labor Party conference in Hobart on Aug. 4, vowing to make the change this term. "There are nations across the world who have already taken this step, some of whom that you would not believe would have done this in advance of a nation like our own."
Tasmanians United for Marriage Equality reports: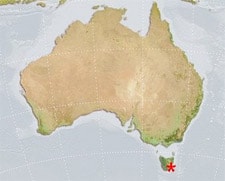 About 70 Tasmanian marriage equality supporters gathered at Parliament House today to toast Premier Lara Gidding's announcement that Tasmania will become the first Australian state to allow same-sex couples to marry (two pictures attached). Tasmanian Gay and Lesbian Rights Group spokesperson, Rodney Croome, said there has been an overwhelming response to yesterday's announcement by Premier Giddings.
"In the last 24 hours the response to Lara Gidding's announcement from same-sex couples and their families across the state and the nation has been overwhelming, with emails pouring in asking 'when can we marry?'."
"Overnight, Tasmania has become a beacon of hope for hundreds of thousands of Australians."
At today's gathering (photos above, below) Mr Croome thanked Tasmanian Premier, Lara Giddings and the Tasmanian Labor Party Conference, which yesterday endorsed state marriage equality, Tasmanian Greens' Leader, Nick McKim, who was the first state MP in Australia to introduce state marriage equality in 2005, Australian Greens' Leader, Christine Milne, whose legislation decriminalised homosexuality in 1997 (both of whom attended today's event), and those members of the crowd who had campaigned for so long for equality.
Tasmanians United for Marriage Equality released a video over the weekend discussing marriage equality's benefits and what folks can do to make it a reality.
Watch, AFTER THE JUMP…
(photos: dave reilly)