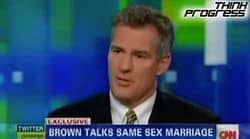 On the eve of the convention, the Boston Globe questions Massachusetts Senator Scott Brown on his positions regarding LGBT issues and the Republican platform.
Says the Brown campaign: "Scott Brown believes gay marriage is settled law in Massachusetts and it's time to move on to issues like jobs and the economy. He opposes a constitutional amendment defining marriage as between a man and woman."
Brown has made the "settled law" remarks before. Brown wouldn't comment on where he stands on DOMA.