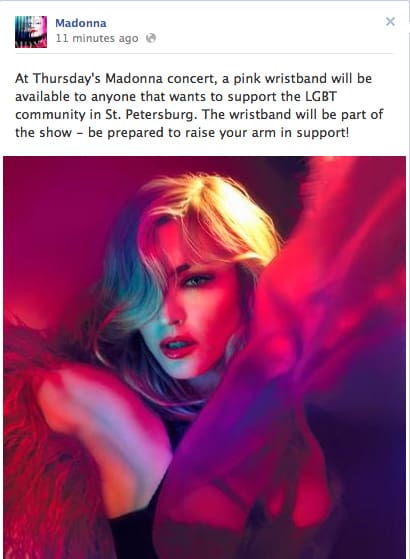 Madonna, who promised in March to speak out against the oppressive ban on "gay propaganda" passed by St. Petersburg, Russia, announced a short time ago on Facebook that she would be handing out pink wristbands "to anyone that wants to support the LGBT community."
She adds, "The wristband will be part of the show – be prepared to raise your arm in support!"
Said Madonna in March: "I will come to St. Petersburg to speak up for the gay community and to give strength and inspiration to anyone who is or feels oppressed. I'm a freedom fighter."
Madonna would be directly opposing the anti-propaganda law by making such a gesture. The law's author, city assemblyman Vitaly Milanov, said in March that she would be charged under the law if she did anything at her concert to disobey it. The anti-gay law bars (and imposes fines for) gay groups from forming publicly, gay books and periodicals, LGBT Pride events, and other "promotions" of homosexuality.
He said he was willing to attend the show "to control its moral content."
The U.S. Embassies in Moscow and St. Petersburg sent out a security alert yesterday for U.S. citizens regarding concerts tonight and Thursday by Madonna in those cities.