Kenneth Miller of Stuarts Draft, Virginia, was found guilty of aiding Lisa Miller and the abduction of her child, Isabella Miller-Jenkins, now 10, during a highly-publicized Vermont custody battle in order to evade court orders to grant Janet Jenkins, her former partner, visitation rights, the Courant reports: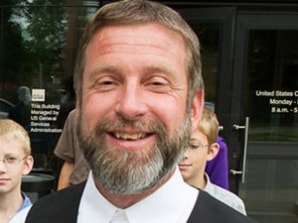 The jury deliberated only a few hours before finding Kenneth Miller guilty. He faces the possibility of three years in prison. No sentencing date was set. Miller showed no reaction as the verdict was announced. More than 80 other Mennonites filled the Vermont courtroom.
Lisa Miller took the girl to Central America after denouncing homosexuality and losing a series of family court battles in Vermont with her former partner, Janet Jenkins. Jenkins and Miller were joined in a civil union in Vermont in 2000. After in vitro fertilization, Miller gave birth to Isabella two years later.
Miller filed to dissolve the union in 2003. She got custody of Isabella, but a Vermont court gave Jenkins visitation rights. She increasingly embraced conservative Christian ideals and renounced homosexuality.
Kenneth Miller, no relation to Lisa, aided her in an act of Christian solidarity with her decision to reject homosexuality.
Think Progress notes the reaction from the hateful right:
Bryan Fischer of the American Family Association has fervently defended Lisa Miller, claiming that there needs to be an "Underground Railroad" to protect children by kidnapping them away from same-sex couples. When courts honor the parental rights of same-sex couples, as they did in Jenkins' case, Fischer calls this "judicial kidnapping," suggesting that those opposed to same-sex adoption can and should function outside the law. Upon Kenneth Miller's guilty ruling yesterday, Fischer tweeted that he was a "Conductor of Underground Railroad" who was protecting a child from an "abusive lesbian environment" and suggested that he too should flee the country rather than face his judicial consequences.