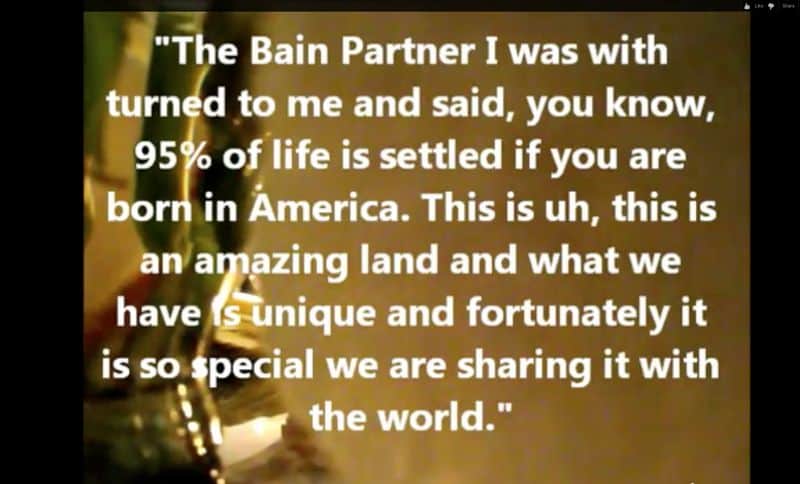 AFTER THE JUMP, see what appears to be a bootleg of Mitt Romney addressing a group of rich people at a fundraising dinner. Mitt doesn't actually appear in the video — he's speaking off-camera — but it doesn't matter, because the oratory's fascinating. (Really!)
In the vid, Mitt's talks about a long-ago visit to China — "back in my private equity days" — during which he visited a factory he thought Bain Capital might like to acquire. He notes that the working conditions were horrible. The factory was staffed almost entirely by young women earning what Mitt calls  a "pittance." They lived on-premises, a dozen women to a room, one bathroom per ten rooms, barbed wire and guard towers ringing the complex (to keep overeager job applicants out, Mitt says).
The moral of the story, according to Mitt, who sounds like he might be tearing up:
The Bain Partner I was with turned to me and said, you know, 95% of life is settled if you are born in America. This is, uh, this is an amazing land and what we have is unique. And fortunately it is so special we are sharing it with the world.
"Sharing it with the world" — assuming Mitt's talking about China, a feat Bain accomplishes primarily via the "Bain Asia Fund," which supplies the Chinese Communist Party with the equipment it uses to spy on democratic dissidents and Tibetan monks. Mitt gets misty over the weirdest things.
(HT: Buzzfeed.)