The anti-marriage equality, anti-gay adoption, anti-civil union, pro-constitutional-amendment-defining-marriage-as-the-union-of-one-man-and-one-woman, Republican former governor of South Carolina, Mark Sanford, is getting married again.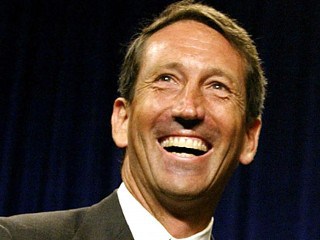 Gov. Sanford proposed to his girlfriend, Maria Belen Chapur, in Argentina on Wednesday. Argentina, please recall, is where Gov. Sanford really was when he disappeared from the governor's office for several days in 2009, after telling a few staffers he was going to "hike the Appalachian trail." He wasn't hiking. He was visiting Ms. Chapur, a commodities broker, with whom he'd been carrying on an affair for at least a year. After the affair became public, Gov. Sanford was nearly impeached, and his wife divorced him.
Gov. Sanford's proposal reportedly came as a surprise to Ms. Chapur, arriving in the middle of lunch at a restaurant called Bella Italia Grill, in Buenos Aires. From The Daily Caller:
… [the] restaurant [is] a favorite of journalists and business executives. Sanford reportedly arrived early and handed the ring in a bag, or pouch, to one of the servers. Sanford then hid himself in the handicapped bathroom for more than an hour before Chapur arrived.

The server approached Chapur and presented her with the pouch, saying that she had won an award for being the hundredth customer of the day. Chapur reportedly opened the pouch and found the ring, and looked confused. Sanford then appeared from his hiding spot and declared his love for her.

… the couple then kissed, cried and promised to love each other forever.