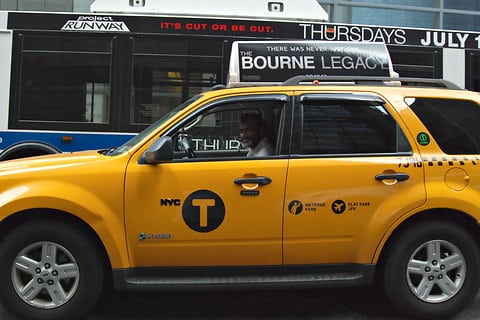 As mentioned earlier this month, New Yorkers and tourists in the Big Apple will soon be seeing some new taxi cabs on the street. Unlike the older new taxi cabs unveiled a few years ago, the new models will no longer include fare information on the door — which is fine, because no one even noticed it, anyway — and have replaced the old "taxi" logo with a simple "T."
The New York Times gives us the scoop, and the internal debate over the taxi's oldest design flair: the checkers.
The new logo emerged from work being done on the "Taxi of Tomorrow" Nissan prototype with the firm Smart Design, which was (somewhat) responsible for the current logo.

Specifications for the new pared-down design call for eliminating the trailing stream of checkerboard shapes that were intended as a reference to the celebrated Checker cab of yesteryear. In this, [Taxi and Limousine Commission chairman David S.] Yassky confessed ambivalence.

"Call us old-timers, but I liked the historical reference," he said. "However, the design professionals felt unanimously that the clutter didn't justify whatever meaning was in there." (Not to worry, Mr. Yassky. City Room spotted six cabs with new decals in the space of a half-hour on Tuesday. Two still had checkerboards.)

The new design is a vindication of the work done five years ago by Davin Stowell and his colleagues at Smart Design. They proposed a large T, unmodified by "axi." At the time, Mr. Stowell said: "Everybody knows what it is. You don't need the words.
There was some worry that using a 'T' will create confusion once the Second Avenue 'T' subway line opens, but Mr. Yasky pointed out: "Nobody will confuse a yellow car with a 75-foot-long train car that runs underground."