Senator Orrin Hatch (R-UT), who is Mitt Romney's most prominent Mormon supporter in the U.S. Senate, broke with Romney on Wednesday when he told Michelangelo Signorile that he supports states rights over a federal ban on same-sex marriage: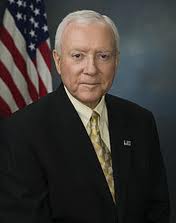 Walking through the floor of the Republican National Convention in Tampa, Fla., Hatch — who has been lauded as an early GOP supporter of AIDS funding in the '80s, when the disease was ravaging the gay community — was asked if his beliefs on marriage for gays and lesbians had evolved.
"Well, my personal belief is that we should not discriminate against anybody, but I do draw the line at the definition of marriage," he said in an interview for my SiriusXM radio program. "I think that it's a very important thing for men, women and children. But I don't want to see anybody showing prejudice against anybody."
Expanding upon his philosophy, which is clearly a shift in his own thinking since he voted for a marriage amendment in 2006, Hatch said, "I haven't even considered" the idea of amendment at this point in time. "I'm a believer that the states should be able to make their own determination," he explained. "There are about, what, six states that have done it? They've chosen to do that. I don't agree with that, because I believe in the sanctity of the marriage covenant and the traditional definition, but the states have a right to do it."