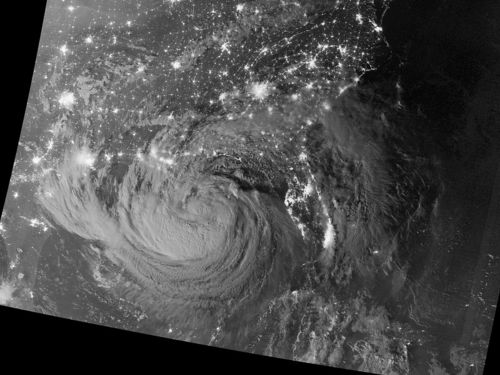 NASA Goddard Space Flight Center just published this stunning image of Hurricane Isaac over the United States:
Early on August 28, 2012, the Visible Infrared Imaging Radiometer Suite (VIIRS) on the Suomi-NPP satellite captured this nighttime view of Tropical Storm Isaac and the cities near the Gulf Coast of the United States. The image was acquired just after local midnight by the VIIRS "day-night band," which detects light in a range of wavelengths from green to near-infrared and uses light intensification to enable the detection of dim signals. In this case, the clouds of Isaac were lit by moonlight.
In other Isaac news, the storm will continue to beat the gulf coastwell into Thursday:
As of 10 a.m. CT (11 a.m. ET), Isaac's maximum sustained winds were at 75 miles per hour — barely hurricane strength, which begins at 74 mph. The storm was centered "very near" Houma, Louisiana, and about 45 miles southwest of New Orleans, the hurricane center said. It continued to move northwest slowly, at only 6 mph, allowing for an extended, relentless lashing of much of the Gulf Coast.
The center of the storm "will move father inland over Louisiana today and tomorrow, and over southern by Arkansas early Friday," the hurricane center said.
 Isaac could bring 14 inches of rain, and as much as 20 inches are possible, the hurricane center said.
Forecasters predict Isaac will continue to weaken as it moves over land during the next 48 hours, but threats of dangerous storm surges and flooding will continue through Wednesday night, the hurricane center said.
Buzzfeed has an interesting comparison up on government response vs. that during Katrina. And Business Insider has a set of images collected during the storm thus far.