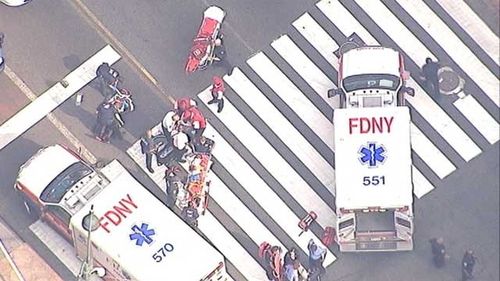 Here's some breaking news out of the Big Apple: at least ten people were shot outside the Empire State Building at about 9am this morning.
There are scant details at the moment, but according to ABC News, CNN and NY1 the gunman was shot and killed by police at the scene. The shooting victims' wounds are non-life threatening.
UPDATE: CNN now reports that at least ten people were shot, at least two fatally. Meanwhile, CBS News offers some more details on the incident:
Some of the victims were reportedly found inside the lobby of the Empire State Building while some were found on the street.

At
least one of those wounded is in critical condition. The conditions of
the other victims are unknown. It's still not clear what led to the
shooting. Details were still emerging as police worked the scene. There
is a large police presence and multiple ambulances on the scene. The FBI
has also responded.
UPDATE 2: Sadly, the final fatality rate 2, including the gunman. Nine people in total were injured.