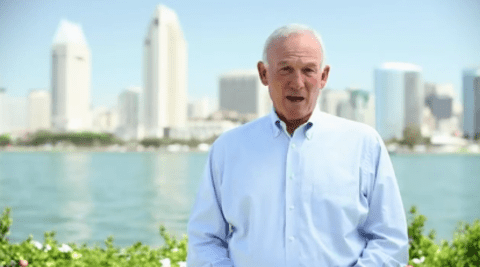 Hoping to convince voters at the Republican National Convention to support marriage equality, Human Rights Campaign and the Freedom To Marry campaign asked GOP San Diego Mayor Jerry Sanders to appear explaining to them that, yes, some on the right support LGBT progress. And that conservative politics and gay rights aren't mutually exclusive.
"As I Republican, I believe in conservative values," says Sanders, before listing "family," "freedom" and "limited government" as some of the right wing values that jibe with gay marriage. He also points out that other prominent Republicans, including Dick Cheney, Cindy McCain and Ted Olson, support opening the wedding aisle for all Americans.
Watch Sanders' video, which will air on all major channels in Tampa during the convention, AFTER THE JUMP.