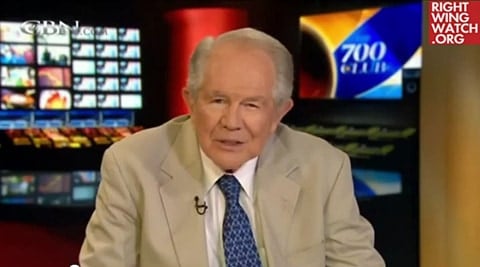 Pat Robertson's been thinking a lot about a piece of white meat between two buns.
He's had it with gays protesting Chick-fil-A, Right Wing Watch reports:
"It's a chicken sandwich, it's a piece of white meat chicken between two pieces of white bread, it's also a milkshake, now we're going to go have demonstrations over that? But you know something, I was reading today in Leviticus, which is the law of the Old Testament, but it lays out the reasons why land will vomit out its inhabitants and it goes through a category of stuff we are calling Constitutional rights: killing babies, offering them to Moloch, and it says it is an abomination for a man to lie with a man as with a woman. It's what it says. That is the moral law that God set forth and now we've got people at a university petitioning because somebody said I believe that marriage is between a man and a woman. I defy these homosexuals to bring forth a baby from that part of the anatomy which they concentrate on, when that happens I will change everything I'm saying; until that happens, I wish those demonstrators would shut their mouth."
Watch, AFTER THE JUMP…