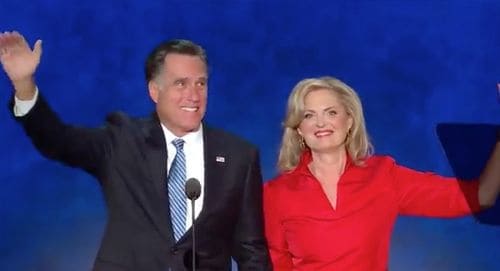 Last night at the GOP convention, Ann Romney declared her love for women and expounded on her "real marriage". Will she be making a guest appearance on her favorite TV show? Probably not.
Chris Christie made the keynote speech last night and seemed to forget he wasn't the one accepting the nomination. RNC convention attendees kept it classy by hurling nuts and racial epithets at a camerawoman. Rick Santorum still hates the gays, in other news the sun rose in the East. Its ok though, because Stephen Colbert details how the gays created Hurricane Isaac to stop the convention. Paul Ryan is the headliner tonight, so the Obama campaign threw a preemptive punch. Looking to understand how the GOP hasn't changed? Check out Ari Ezra Waldman's look at the  Republican platform. At least there is one pro-equality face at the Republican Convention in the form of Chelsea Clinton. 
In disturbing news, a gay couple is suing United Airlines, after being at the wrong end of a baggage handler's prank. Paul Babeu, the sheriff who tried to have his boyfriend deported, is one step closer to being re-elected. New Zealand is about to pass marriage equality and President Obama had a hand in it. Utah Senator Orrin Hatch made a break from Mitt Romney by siding with states' rights when it comes to gay marriage. Also, California has voted to ban barbaric gay 'conversion therapy' for minors.
Thinking of coming out to your friends and family? Check out this handy guide on how to do it. If you want to watch "The New Normal" but your Utah town has banned it, we've got your back. If you were going to see the LA Gay and Lesbian Center's production of "Deathtrap", however, we've got some bad news for you. Excited to see "Pitch Perfect" in theaters? Check out this featurette!
Finally, a moonlit satellite view of hurricane Isaac.