Democratic gubernatorial candidate Peter Cooke said on Monday that he opposes same-sex marriage and civil unions, as well as "abortion except in cases of rape, incest or to save the life of the mother", telling voters that he was aligning with the LDS church and "Utah values" rather than those of his party, the Salt Lake Tribune reports: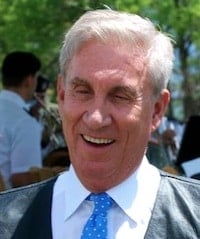 Cooke said his opposition to gay marriage stems from his faith ­— he is a member of The Church of Jesus Christ of Latter-day Saints, which has actively opposed same-sex unions in California and elsewhere — but he supports a state law that would ban discrimination based on sexual orientation, which the church has also supported.
"To me gay marriage is part of my religious belief and I support that and I respect other religious beliefs and I support and love those who are in the gay community," Cooke said. "I think what needs to be done in Utah is for us to all live together, be compassionate. That's what the Democratic Party is showing."
Cooke said he made the statements in order to have a "substantive debate" with his opponent Gov. Gary Herbert.