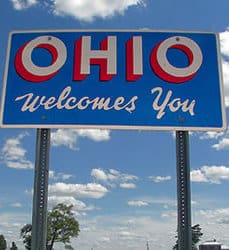 President Obama appears to have a slight lead in the battleground state of Ohio, where The Cleveland Plain Dealer and other papers took a poll showingthe commander-in-chief ahead by 5 points with 51% of the likely vote, leaving Romney with 46%.
Here are the demographic breakdowns via the Plain Dealer:
Overall, women favor Obama over Romney 53 percent to 43 percent. Men give Romney a slight edge, 49 percent to 48 percent. White voters break for Romney, 51 percent to 46 percent, while 92 percent of black voters back Obama.

When asked if they were better off now than four years ago — a staple of presidential politics since Ronald Reagan — 36 percent said they were worse off, 23 percent better and 41 percent "about the same."

Few other issues appear to be moving the needle much for either candidate.

When asked about the president's health care law, 48 percent of respondents said they want Congress to expand the law or keep it as is…. Though Ohioans last fall at the ballot box renounced the administration's health care mandate by a 2-to-1 margin, only 44 percent of poll respondents said they want it repealed.
According to the survey, Ohioans are surprisingly disinterested in President Obama's recent endorsement of marriage equality: an even 50% said his position makes no difference in their decision making process, though some of those may fear being seen as a homophobic and therefore embellished. One never knows with such hot button issues.