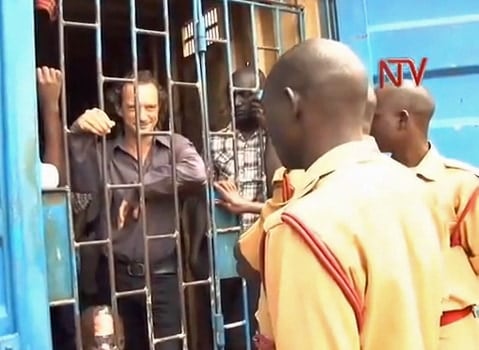 Earlier this week I posted about David Cecil, the producer of Uganda's first gay-themed play The River and The Mountain, which had a short run in August in Kampala. Cecil was being threatened with a jail term for staging the play.
Watch a video report from NTV Uganda, AFTER THE JUMP…
Cecil appeared at a hearing yesterday, and was taken into custody, the AP reports:
David Cecil appeared in court Thursday charged with "disobeying lawful orders" from the Uganda Media Council, which says he staged "The River and the Mountain" in Uganda's capital last month despite orders to the contrary.
Cecil's lawyer, Francis Onyango, said his client was not released on bail because his passport, wanted by the magistrate, had been confiscated by the police.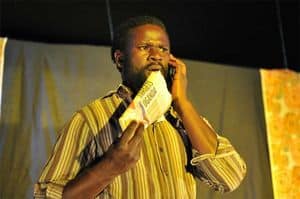 A bail hearing is next week. Cecil faces a two-year prison term if convicted for "disobeying legal orders". Uganda activists are speaking out, the AFP reports:
"Such acts go against the constitutional provisions of freedom of expression and assembly," said Clare Byarugaba, a coordinator at gay rights group, the Ugandan Civil Society Coalition on Human Rights and Constitutional Law.
"These charges are ungrounded and only serve to propel further the State of Uganda's anti-gay campaigns," she said. Ugandan officials, however, said the arrest was justified and warned that more people involved with the performance could face prosecution if the play is staged again.
"We have already put a directive to police that whoever is taking part in the play and especially those Ugandans who are paid to take part must stop or else they will be inviting the long arm of the law," said Simon Lokodo, Uganda's ethics and integrity minister.
Watch a video report from NTV Uganda, AFTER THE JUMP…