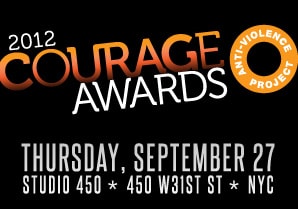 At the Courage Awards each year the New York City Anti-Violence Project honors outstanding individuals, organizations and corporations whose work on behalf of the lesbian, gay, bisexual, transgender, queer and HIV-affected (LGBTQH) communities — particularly on behalf of victims and survivors of bias and hate violence, police misconduct, intimate partner violence and sexual violence — has made an impact.
Several years ago I was proud to be honored with several other LGBT bloggers for our work in raising awareness about violence against LGBT people.
This Thursday BD Wong, star of television and Broadway, and a tremendous, long-time spokesperson for and supporter of AVP; Verizon Wireless, for their support of AVP's national work to end intimate partner violence in LGBTQH communities; and the Interbank Roundtable Committee, a networking group of LGBT leaders at financial services firms, are all being honored.  The evening will include a VIP reception, an awards presentation, and an after-party.
Towleroad is a media sponsor of the event and I would encourage any of you who are in NYC this week to buy tickets and support this important organization.
Tickets are available here.