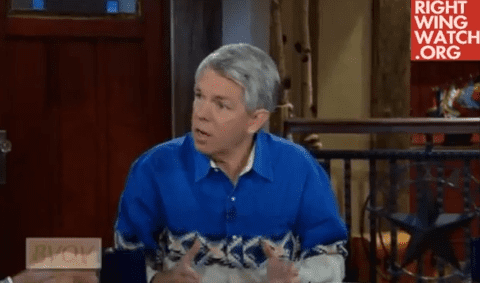 Conservative fundamentalist David Barton and televangelist Kenneth Copeland claimed this weekend that policies granting LGBT citizens equality will bring the nation to its knees.
Transcript, via RightWingWatch:
Copeland: I don't care who you are, if you turn loose of God and the truth of God, you're going down, brother! You can't—it's created that way; you can't violate the way it was put together.

Barton: That is why public policies in a nation are so important. If a nation says, 'hey, we want abortion, we want homosexual marriage,' it is going down.

Copeland: It's going down.

Barton: You have taken what God had up top and said 'we're not going to do that, we want to go in a different'—anytime you move away from what God says, you are going down as a nation.
Move over Hands Across America!
It's unclear if the men realize how their choice of words could be misinterpreted, but you can watch them lob that point back and forth AFTER THE JUMP.