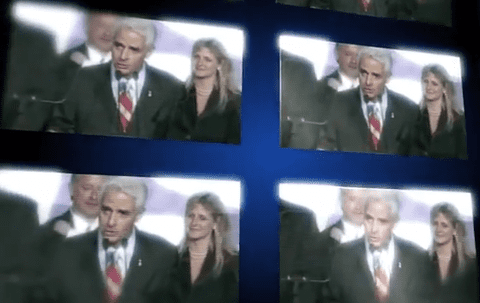 Now that former Republican Florida Gov. Charlie Crist has endorsed President Obama's reelection campaign and announced he will speak at the Democratic National Convention, the politico's former GOP allies are targeting him in a new ad.
The commercial, called "How Conservative Are You, Charlie?" and running in Florida, features Crist lauding his own conservative credentials and palling around with the likes of Dubya and Sarah Palin.
From CNN:
"If many Democrats thought Clint Eastwood's speech was a bit odd, wait till they see Charlie Crist – a man who has built his career bashing virtually everything President Obama and the Democrats stand for, including the President's spending programs and ObamaCare – debate himself," Republican Party of Florida Chairman Lenny Curry wrote in a statement.

"Charlie Crist may try to use the Democrats' national convention as his latest attempt to shed his political skin, but the RPOF intends to make sure the people of Florida and the nation remember his words and record," he added.
Watch the 30-second spot AFTER THE JUMP