This brings the total the government has asked SCOTUS to review to four, Reuters reports.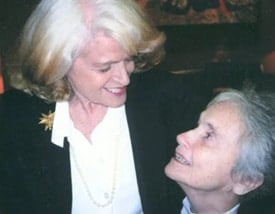 The new requests:
One of the cases submitted Tuesday involves 83-year old Edie Windsor of New York, who married her partner, Thea Spyer, in Canada in 2007. After Spyer died, Windsor said she had to pay more than $363,000 in U.S. federal estate taxes, which she would not have had to pay if her same-sex marriage had been legally recognized by the U.S. government, according to the 2010 lawsuit.
A U.S. District Court judge in Manhattan ruled in Windsor's favor, finding that a Defense of Marriage Act provision discriminated against married same-sex couples. Federal courts in California and Massachusetts also have found the law unconstitutional.
Windsor petitioned the Court in July to fast-track her case.
And:
The other case submitted on Tuesday by the Justice Department involves six same-sex married couples and one widower from several states who say they have been denied significant federal benefits because of the law.
A district judge in Connecticut ruled in July that their rights had been violated by the law, and in August, advocacy group the Gay & Lesbian Advocates & Defenders filed a request that the Supreme Court take the appeal.