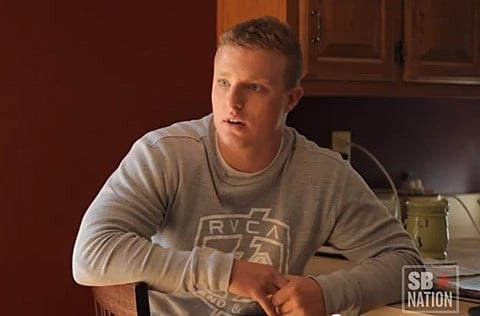 Earlier this week I posted about Jamie Kuntz, a North Dakota college football player who was kicked off his team after teammates saw him kissing his boyfriend in a press box at an away game.
Kuntz sits down with SB Nation's Amy K. Nelson for his first on-camera interview to talk about the incident and what his life has been like since he was outed. Nelson also talks to his mom, the school's athletic director Stu Engen, people in Jamie's town, and some of his teammates.
Many of them are frustrated, upset with what they perceive as an attack on the school, and an unfair labeling of it as a homophobic place.
'I'm friends with Jamie,' said Trevon Money, a defensive end, "but you came here to play football. You didn't come here to do other things in the crowd."Spending 48 hours in the middle of a political, emotional and media firestorm, I got a glimpse into what happens when an athlete is outed in small-town North Dakota, and how not only the community reacts, but how the world watches.
Watch Nelson's excellent piece, AFTER THE JUMP…