Yesterday I posted about the assault of a gay man by four Marines outside Long Beach gay bar The Silver Fox. Those Marines have been identified, the San Diego Union Tribune reports: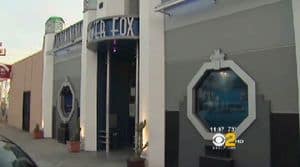 Lance Cpl. Lewis Serna, Pfc. Thomas Pentek, Pfc. Sean Miller and Lance Cpl. John O'Leary were arrested in Long Beach early Monday morning, said Marine Corps spokesman Maj. Manuel Delarosa. They allegedly beat a San Dimas man until he lost consciousness outside the Silver Fox.
The Long Beach Police Department is investigating the incident as a possible hate crime and will present its findings to the Los Angeles County District Attorney's Office today, spokeswoman Lisa Massacani said.
The four Marines are free on bail and have returned to their units, Delarosa said. "We are currently gathering all of the details to ensure we have a full understanding," he said in a statement. "We are cooperating with local law-enforcement officials in Long Beach with their investigation; we will also be conducting our own investigation as well."
Delarosa added: "This is an isolated incident; committing any hate crime is unacceptable behavior and is not tolerated in the Marine Corps."
Previously…
Four U.S. Marines Arrested for Beating Gay Man at Long Beach Bar: VIDEO
[tlrd]