Following last year's marriage equality vote in New York, the National Organization for Marriage made promises that it would exact revenge on the four GOP senators who voted in favor of the law.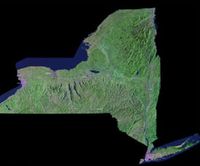 Now, at least one of them, Mark Grisanti (second from left) has won his primary in a landslide following an ugly final month of campaigning which saw him targeted by a soft core homoerotic mailer.
According to unofficial results Thursday night, Grisanti beat lawyer Kevin Stocker, with about 60 percent of the vote and almost all precincts reporting.
Said NOM's Brian Brown after money began pouring in last January to the senators from pro-equality donors:
"All the money in the world isn't going to buy them out of the fact that they're about to lose an election. People are outraged by what they've done, and they are going to be held accountable."
One of the senators (top left), James Alesi, retired. The other two were in primaries yesterday but the results are still too close to call.
Stephen Saland (top, right) leads his opponent Neil DiCarlo by just 42 votes with 100% reporting. Roy McDonald (third from left) lags behind his opponent Kathleen Marchione by 138 votes with 99% reporting.
Both races will be decided by absentee ballots.