Former Calvin Klein boytoy Nick Gruber says that Klein has hired a private investigator to follow him around: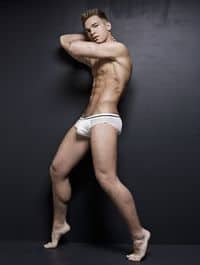 For the last month, Gruber says he and his boyfriend, John Luciano,
have been tracked by a cop-turned-gumshoe. Gruber tells Confidenti@l
that he believes the investigator, a well-known P.I., was hired by Calvin Klein to watch his every move.
But the investigator isn't sleuthing around incognito. On Monday,
Gruber says the private eye got in a scuffle with Gruber and his friends
at Toy's Avenue A Soundcheck party in the Meatpacking District.
He also says the investigator approached the former porn star's table
and began shouting about how Luciano is connected to the mob and being
followed by Federal agents. Gruber says the gumshoe showed up to his
hotel yesterday morning as well.
And:
Luciano said Klein probably misses Gruber. "I understand what it's
like to be broken-hearted, and I'm sure Calvin's heartbroken," he said.
"Nick's a great guy."
He said that neither he nor Nick will take legal action against Klein or anyone hired to follow them.
Especially if they're carrying cameras for a reality show.