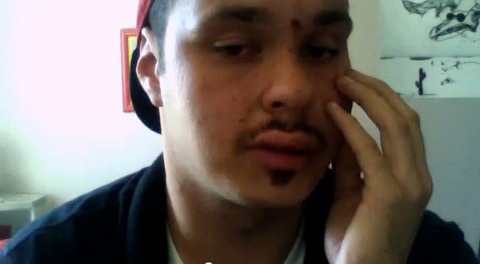 A 24-year-old heterosexual man posted a video to YouTube on Saturday alleging that he and his brother were assaulted outside McFly's bar in Omaha, Nebraska in an anti-gay hate crime.
Watch the video, AFTER THE JUMP…
Says the YouTube uploader Darthn8er (my transcript).
Last night I was the victim of a hate crime. My brother and I were jumped by four guys outside a bar in Omaha, Nebraska because they said we were gay. My brother and I are not gay, however, my little brother is. I got into a guy's face about it, and we got jumped, and were called gay. You can see my face. It's so swollen…Getting ready to go to the hospital now. I've got scrapes, cuts. My lip, you can see how huge it is. It's black and blue. My brother's lip's cut up. I want to be a voice to let people know that it's not all right. People need to be tolerant. This shouldn't happen.
Adds the man:
The bar owner ended up banning my brother and I for life. And We were the victims at his bar. Which only goes to say he probably knew the guys who did it. We filed a police report. If anything happens from it we'll be lucky. Stand up and be heard.
While local news has not yet picked up the story there was interest from at least one station WOWT, in the YouTube comments. We'll see what they discover.
McFly's Facebook page is here.
Watch the video, AFTER THE JUMP…