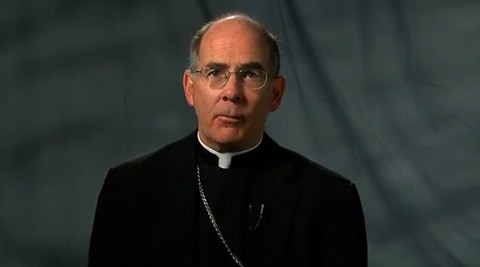 Seattle Archbishop J. Peter Sartain released a 4-minute video on the church's website warning voters that if Referendum 74 is approved and gays are allowed to marry, that "society would be harmed beyond repair."
Watch, AFTER THE JUMP…
Says Sartain, in solidarity with all the Catholics bishops in Washington:
"We urge our Catholic people touphold our consistent Catholic teaching on marriage for the good ofthe Church, society, husbands and wives and their children. Therefore, we bishops reject the redefinition ofmarriage as a 'civil contract between two persons.' … Redefining marriage as a means of dealing with importantissues of equality and respect for all persons will not achieve thegoal of defending the rights of all and would overturn centuries ofcommon law. To suddenly change the God-given andtime honored understanding of marriage would be a very harmful thingfor our state and for the world. … Should marriage be redefined inour state the very foundational nature of marriage for the good andstrength of human society would be harmed beyond repair."
Watch, AFTER THE JUMP…
(via on top)