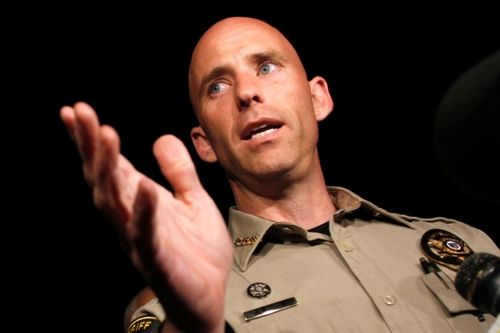 Things are suddenly looking good for Sheriff Paul Babeu, of Pinal County, Arizona. Recall: He's the famed immigration hawk who was considered a rising star in the GOP, with appearances on FOX News, cameos in John McCain campaign ads, and a Romney campaign chairmanship — until the Phoenix New Times broke the story of his long-term gay fling with an illegal immigrant named Jose Orozco, whom it appeared Sheriff Babeu had promised to deport if the young man divulged details of his and Babeu's relationship.
After the story broke, Babeu immediately came out of the closet, canceled his scheduled run for Congress, cut his ties to the Romney campaign, and recomitted himself to Sherififng. On Tuesday he handily won his primary election, and yesterday he was cleared of wrongdoing in the  Orozco flap.
From Reuters:
"The Attorney General's Office will not file charges against either Babeu or Orozco," Solicitor General Dave Cole said in a statement released on Friday.

"The investigation determined that Babeu did not commit any criminal violations and further concluded that, although Orozco conducted himself in a manner that may constitute a violation of the law, there was no reasonable likelihood of conviction on anything more than a misdemeanor charge."
Sheriff Babeu was pleased that the "truth has won out," and blamed the whole scandal on election-year-politics.