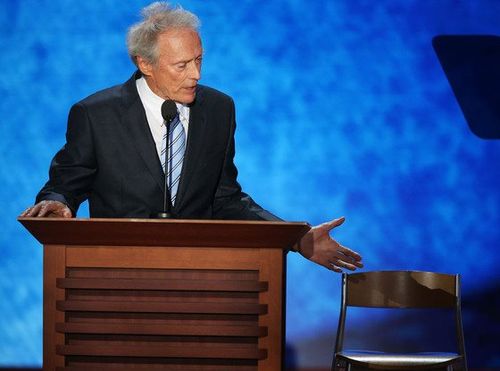 The GOP Convention mercifully came to a close night and it certainly went out with a bang. The night was built around Mitt Romney accepting the Presidential nomination and his speech in which he pledged to "restore America's promise". A good portion of Romney's speech was devoted to trying to prove that he belongs with the GOP's most conservative members. A fact that Romney himself has disproven in previous speeches. Romney however was maybe not the most talked about story out of last night. Clint Eastwood made a bizarre, unscripted, appearance in which he yelled at an empty chair that was supposed to be Barack Obama. It was very odd. It even warranted a response from Obama himself. Newt and Calista Gingrich also got in on the act last night, appearing together and comparing Obama to former President Jimmy Carter. 
What with all the drama from Thursday night, Paul Ryan's moment from Wednesday could easily be forgotten but Jon Stewart still found time to swoon over Ryan's baby blues. We may be getting to see so much of Ryan because of Condoleezza Rice's stance on abortion and civil unions. 
Jerame Davis, the executive director of the National Stonewall Democrats, watched Romney last night and unlike the former head of the Log Cabin Republicans, did not like what he saw at all. 
Now that the Republican Convention is over, all eyes turn toward Charlotte and the Democrats where we have Mary J. Blige and others to look forward to.
Stevie Wonder's music is the best, but his view toward gays is not so much. On the flipside, boxer Micky Ward made a stance for equality by pulling out of a Scott Brown endorsement. A few days ago we reported that California had banned "gay conversion" therapy for minors and now a bill banning "ex-gay" therapy altogether is now headed to the state's Governor. David Koch may be pumping money into conservative causes, but he backs gay marriage. 
Utah-based gay publication QSaltLake really needs your help!
The lines between church and state were getting blurred all over the place today. First, Catholic churches in Washington were caught collecting donations to fight marriage equality. And, a Minnesota Archbishop wrote a letter encouraging parishioners to vote against same-sex marriage. According to the Right though, the real evil comes courtesy of ParaNorman. Now I kinda want to see it. 
Oh and Victoria Jackson is still crazy. She has gay friends?
Check out the trailer for "How to Survive a Plague". Also great new music for your long weekend.