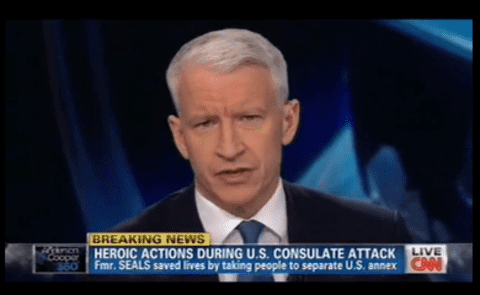 Last Wednesday, Anderson Cooper and his team at CNN issued a report that they said delved deep into slain U.S. Ambassador to Libya Chris Stevens' political mindset. The information was said to have come from someone familiar with Stevens' thinking — and as it turns out was based partially on Stevens' journal. The item had been found by a CNN team, and details contained in it were used to build the CNN report.
"The information for that report, like all of CNN's reporting, was carefully vetted. Some of that information was found in a personal journal of Ambassador Stevens in his handwriting," said Cooper. "We came upon the journal through our reporting and notified the family. At their request, we returned that journal to them. We reported what we found newsworthy in the ambassador's writings. A reporter followed up on what we found newsworthy, as I said, in the ambassador's writings."
CNN provided more information yesterday, "The journal was found on the floor of the largely unsecured consulate compound where he was fatally wounded. CNN notified Stevens' family about the journal within hours after it was discovered and at the family's request provided it to them via a third party. The journal consists of just seven pages of handwriting in a hard-bound book."
Right-wingers are already jumping down Cooper and company's collective throat, and so too is the State Department, which called CNN's use of the dead man's journal "indefensible".
Read more AFTER THE JUMP.
"What [CNN is] not owning up to is reading and transcribing Chris's diary well before bothering to tell the family or anyone else that they took it from the site of the attack. Or that when they finally did tell them, they completely ignored the wishes of the family," said Philippe Reines, an advisor to Secretary of State Hillary Clinton, according to Politico.
"Anderson Cooper didn't even bother to offer any other explanation as to why the network broke its promise to the family. And only did so after being contacted by a reporter asking about the diary and their convoluted sourcing. How do they justify that? They have yet to even try to defend the indefensible."
Given the truth of how this was handled, CNN patting themselves on the back is disgusting,' he said. He also wondered, "Whose first instinct is to remove from a crime scene the diary of a man killed along with three other Americans serving our country, read it, transcribe it, email it around your newsroom for others to read and then call the family?"
CNN, clearly on the defensive, offered further explanation, and a barb at the State Department: "The real question here is why is the State Department now attacking the messenger… The reason CNN ultimately reported Friday on the existence of the journal was because leaks to media organizations incorrectly suggested CNN had not quickly returned the journal, which we did."
Watch Cooper explain the journal report, via Mediaite: