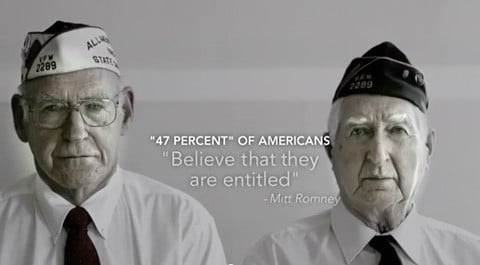 The Obama campaign's new ad uses Mitt Romney's "47 percent" speech to devastating effect, placing Romney's words and audio directly over images of the people Romney's writing off.
It is airing in New Hampshire, Virginia, Florida, Ohio, Iowa, Nevada and Colorado.
Watch, AFTER THE JUMP…
In related news, an Obama campaign spokesperson has warned Romney against using "Pinocchio attacks".
"Mitt Romney and his team have a tendency to you know, to look at the president and make outrageous accusations about his truthfulness," she said, but "If Mitt Romney were Pinocchio, his nose would be reaching from Virginia to Ohio with the number of lies and untruths in the ads that his team has put out.
"The president has laid out his plan the choice in this campaign, the choice in this election to the American people. He'll do that next Tuesday. But this is the kind of ridiculous absurd and unproven accusations by the Romney team that are just meant to distract and are not based on any record of the last several months."
She also painted Romney as the most prepared debater in modern history.
In a Gallup tracking poll released today, Obama maintained a 6-point lead over Romney nationally. The candidates are tied in a Rasmussen poll.