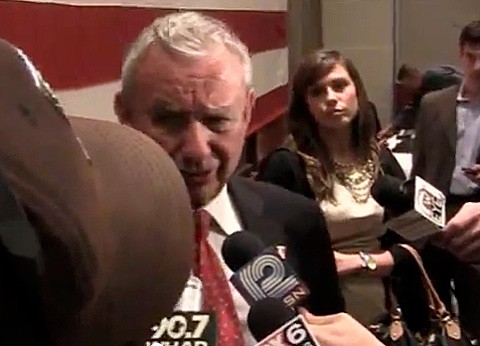 Last week Brian Nemoir, the political director for the U.S. Senate campaign of former Gov. Tommy Thompson, sent out a gay-baiting email and tweet which contained a link to a video of Thompson's opponent, out Democratic Rep. Tammy Baldwin, dancing at Madison's Gay Pride festival in an attempt to mock her before she gave her DNC speech on 'Heartland Values'.
The Journal Sentinel reported:
"Clearly, there's no one better positioned to talk 'heartland values' than Tammy," Nemoir wrote in his email, which was obtained by WisPolitics.com.
The email included a link to a video of Baldwin dancing in 2010 on Library Mall at the University of Wisconsin-Madison campus with the costumed disco band VO5 playing the "Wonder Woman" theme. Baldwin, wearing sunglasses, dances on stage with the band and at the end hugs a dancer who is dressed like the comic book hero Wonder Woman.
Thompson was asked about Nemoir's gay-baiting by reporters yesterday. Thompson said he thought it was inappropriate but still retains Nemoir on staff "in a different role," Think Progress reports. "Somebody else has taken over communications with the press."
Watch, AFTER THE JUMP…