Libertarian presidential candidate Gary Johnson does a Reddit 'Ask Me Anything'.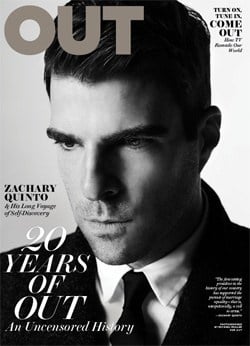 Zachary Quinto covers OUT's 20th anniversary issue, talks about coming out, relationship with Jonathan Groff: "I'm incredibly happy, I'm incredibly lucky."
A fat wiener.
Just FYI, here's the Exhibitors Booth Map for the Values Voter Summit.
Christine Quinn's coming out party: "With her newfound notoriety, it would seem, the stars are aligning for Ms. Quinn to follow Mr. Bloomberg's footsteps as the most prominent mayor in the country. However, she will first have to cut her path to City Hall through a crowded field of opponents and a Council that may include members eager to exact revenge on the outgoing speaker, while also battling the persistent impression she is a political stand-in, a Medvedev to Mr. Bloomberg's Putin."
Adam Lambert rocks grey hair.
Sookie! Anna Paquin gave birth to twins.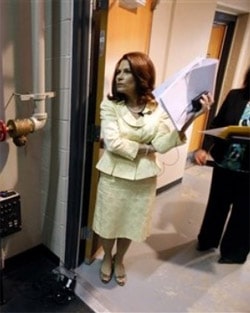 Michelle Bachmann in danger of losing office?
Gay director Andrew Vallentine, who was behind this stunning version of Adele's "Set Fire to the Rain", is hoping to win a Sigur Ros video contest. Check out his entry here.
LGBT-inclusive national suicide strategy unveiled:
"The strategy details multiple goals for reducing suicide, such as
integrating suicide prevention into health care policies and changing
the way the public talks about suicide and suicide prevention. In
addition to veterans, the study identifies particular groups that may
face a higher suicide rate, such as individuals with mental and
substance abuse disorders, individuals in justice or child welfare
settings and LGBT people."
Should Manchester, UK's be the model for every Gay Pride?
Australian Prime Minister Julia Gillard wants gay rugby tournament to come to Sydney: "The vibrant city of Sydney is the perfect location for the Bingham Cup, and the Sydney Convicts, Australia's first gay rugby union club, are the perfect hosts."
Meet Chris Kluwe and other Minnesota athletes for marriage equality at a fundraiser this Friday in Minneapolis.
Prince William wants two kids.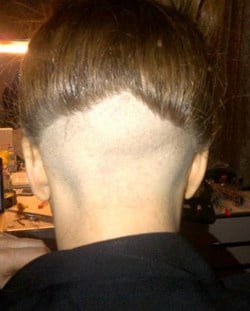 Lady Gaga shaved the back of her head.
Pocatello, Idaho to become second city in state with gay rights protections:
"The Pocatello city council voted unanimously to move ahead with an
anti-discrimination ordinance like one passed in Sandpoint, Idaho, last
year. Pocatello is located in southeast Idaho, which is typically
conservative and heavily Mormon. But little opposition to the ordinance
has emerged."
AP picks up story of North Dakota football player Chris Kuntz: "'I'm struggling with it,' said Rita Kuntz, choking back tears. 'I love Jamie and I'm proud of him, but I know what the school did was wrong.' Rita Kuntz said she has accepted that her son is gay, but she believes he was taken advantage of by his boyfriend, who is more than three times her son's age."
NY GOP state senators face test on marriage equality vote: "But even in a year in which economic issues are dominating many local and national campaigns, Mr. McDonald, 65, is having a hard time making job development the subject of his bid for re-election. Instead, his campaign has become a referendum on a single decision: his choice last year to cast one of the decisive votes that made same-sex marriage legal in New York State."