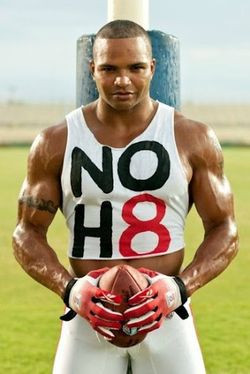 The NFL started its season this weekend, but it has been a couple players' stance on gay marriage that has been making headlines, at least here on Towleroad. Last week, a Maryland lawmaker tried to stop Ravens linebacker Brendon Ayanbadejo from publicly supporting marriage equality. Today however, he was forced to relax his stance. And rightfully so, Ayanbadejo keeps speaking out on gay rights. In other football news, a college player in North Dakota was kicked off the team for kissing his boyfriend. 
Football of a different kind has also been in the news down under, where an Australian player recently came out of the closet. 
A steadfast advocate of gay rights, Vice President Biden continues to believe that marriage equality will happen. Brad Pitt also believes it's only a matter of time. And Zac Efron has no problem with the gays or gay rumors. Much to everyone's delight. 
A Republican group in New York is decidedly against gay marriage, even going so far as to send out a homoerotic mailer to get its point across. Speaking of classless, the Catholic Church blocked a married gay couple in Massachusetts from buying an estate over fears that gay marriages would happen on the site. The couple is now filing suit. 
In news that would fall under the "well, obviously" category, it turns out that the repeal of 'Don't Ask, Don't Tell' didn't hurt anybody, least of all the Armed Forces. 
Anderson Cooper has revamped his daytime talk show. That includes, among other things, an open discussion about his sexuality as he talked today about his decision to come out of the closet this summer. 
If you're gonna be in Portugal you might wanna check out the Queer Lisboa Film Festival. Or at least the promo for it. 
Putting an end to the recent bad boy behavior of Prince Harry, the Royal Air Force redeployed him to Afghanistan. Today the Taliban stated that they will do whatever it takes to kidnap or kill him.
Lastly, Nicki Minaj though rapped that she is supporting Mitt Romney, President Obama isn't buying it.