Dan Savage reports on a North Dakota college student who was kicked off his football team after players caught him kissing his (much older) boyfriend in a press box.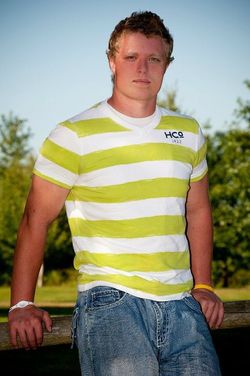 Jamie Kuntz, a student at North Dakota State College of Science, a small junior college in Wapheton, North Dakota, was planning to transfer on a football scholarship to a larger school from which he had offers. That's probably not happening now.
Savage writes:
Those plans fell apart after Kuntz traveled to a football game against Snow College in Pueblo, Colorado, on Labor Day Weekend. Kuntz had a concussion and wasn't supposed to go to Pueblo but at the last minute Kuntz was tapped to film the game. Kuntz's boyfriend, who lives in Denver, met Kuntz in Pueblo and sat with him in the otherwise deserted press box while Kuntz filmed the game.
"We were getting destroyed," says Kuntz, "the game was a total blowout. And I guess I got bored and so I kissed my boyfriend and some of my teammates saw us."
After the game—just before a 15-hour bus ride back to North Dakota—NDSCS's head football coach, Chuck Parsons, pulled Kuntz off the bus and confronted him. Kuntz denied kissing the man with him in the press box and he denied being gay. Kuntz was on Twitter for most of the bus ride back to Wapheton. He sent some tweets that alarmed his roommate—Kuntz hinted at being suicidal—and the police were called. After the police determined that he was not a suicide risk, Kuntz sent his coach a text message saying that he was gay and that he had kissed the man who was with him in the press box. Kuntz also apologized to his coach for lying.
The next morning Kuntz's coach called him for a meeting.
Kuntz was thrown off the team. Two days later he withdrew from school and now lives with his mom, who learned he was gay as the episode unfolded when Kuntz changed his Twitter profile from "football player" to "gay football player". Savage called the school and offers some interviews with other players on the team. He also published part of the letter from the football coach and it's pretty obvious that homophobia is at work all the way around.
But there's another issue in play, and that's the age of Kuntz's boyfriend:
One detail about Jamie Kuntz' story makes it highly unlikely that he
will become a poster child for young gay athletes: Kuntz's boyfriend is
65 years old.
"When my coach pulled me off the bus that night and asked me who that
was with me in the press box," Kuntz says, "I said, 'Oh, that was my
grandpa up there with me. I wasn't kissing my grandpa, I don't know what you're talking about.'"
Kuntz says that he has always been attracted to older men. Kuntz was
18 when he met his boyfriend online and Kuntz says he was the aggressor.
"I definitely pursued him," says Kuntz. "He's a great guy. I love him."
Savage adds:
Impulsively making out with your boyfriend in a press box
isn't the best way for a gay college athlete to come out to his
teammates. But Kuntz's impulsiveness—or Kuntz's recklessness—is
understandable. He is a teenager. It's hard to feel anything
but anger for Kuntz's boyfriend. The elder man's reckless disregard for
his Kuntz's future, to say nothing of Kuntz's physical safety, is much
harder to excuse.
Read the full story HERE, and there's plenty more that I didn't include.