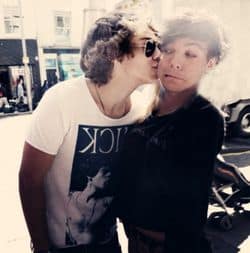 BY SAM GREISMAN
A look back at some of today's stories.
Mitt Romney's tax returns (or lack thereof) have been a major talking point so far in this election season. In a new video, the Obama campaign tells us five reasons why we won't get to see any more of Romney's returns. They also have a new ad out attacking Romney's ongoing assertion that America is worse off than it was four years ago. As for Mr. Romney, he spent part of this past weekend attacking gays and women at the Values Voter Summit. And don't miss the late-breaking videos shot inside a Romney fundraiser for high rollers.
**
Everyone's favorite twink-lie boy band One Direction has had its fair share of gay rumors. One member is very tired of hearing about it. Dost thou protest too much? Someone who doesn't have a problem with gay rumors, or gay fans for that matter, is Daniel Radcliffe. Check out the Harry Potter star's Google Hangout for the Trevor Project. 
**
Clearly Fox News' pre-interviewers are doing a bang-up job. Gretchen Carlson got punk'd by a "former Obama supporter". 
GOP Senate candidate Juan Reyes made news after using a homophobic mailer campaign to try to smear his opponent. Now that he has lost he has released a statement apologizing for their mistake. Too little too late. 
**
Video of the Day: Check out the best Kickstarter project ever! Man Candy and Cupcakes!
Music Video of the Day: Watch Frank Ocean's performances from Saturday Night Live this weekend.