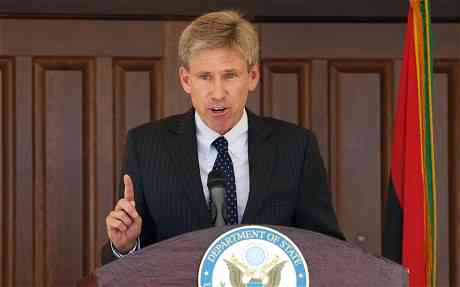 Today in Libya U.S. Ambassador Chris Stevens as well as three aides were killed in an attack on the U.S. Consulate. The attack, which occurred in the eastern city of Benghazi, is thought to have been launched in anger over a recent film disparaging the prophet Muhammad. President Obama as well as Secretary of State Hillary Clinton both released statements today in which they condemned the attacks. 
Mitt Romney also spoke today in response to the attacks. He, however, used the moment to attack Obama, a move which has led to condemnation from both the Right and the Left. Obama later noted that Romney seems to "shoot first and aim later".
In other Romney news, the Boston Globe took a close look at his past ugly interactions with gay people. 
The attack in Libya has been dominating the headlines today however, the most talked about single post on Towleroad featured the topic of judgmental gay men. Why are we so judgy? Is it even true that gay men are generally judgemental? Psychotherapist Matthew Dempsey offers some answers in his new video. 
Yesterday Barney Frank reiterated his stance against gay Republicans. Today the Log Cabin Republicans and GOProud both issued responses to Franks statements. Not-so-shockingly, they don't see eye-to-eye with Frank. 
New NBC comedy The New Normal already made headlines when it was banned by one Utah affiliate. The show, which was created by Glee creator Ryan Murphy, is centered around the story of a gay couple trying to create a family through surrogacy. Our Ari Waldman takes a look at the show from a legal standpoint. 
Some good news out of Washington state, where it seems that the Marriage Equality referendum is polling very well. In other potentially good news, two more DOMA cases have been sent before the Supreme Court.