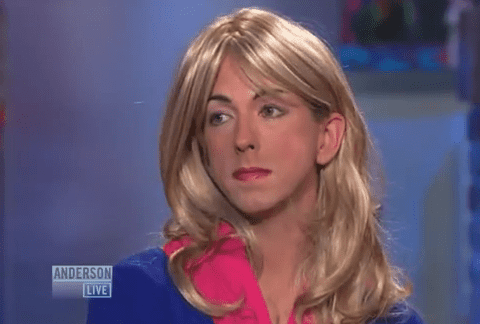 Today's installment of Anderson Cooper's daytime talk show, Anderson Live, revolves around Mandi, a person who was born a man and claims that a hair loss treatment made him identify as a woman. Or woke a female identity. Or implanted a female identity. Something like that, maybe.
The official description of this seemingly far-fetched phenomenon reads thusly: "Mandi, who was born male, speaks out for the first time, claiming that a hair loss treatment caused him to become transgender. Mandi is joined by her ex-wife, Michelle, who opens up about how Mandi's identity transformation has affected their son."
This scenario raises all sorts of problematic questions about transgender identity and its origins, and has definitely raised ire from the National Center for Transgender Equality. Executive Director Mara Keisling says Cooper's premise is "sensationalism" and spreads "misinformation".
Her statement:
All of us here at the National Center for Transgender Equality are surprised, saddened and disappointed that a respected show like Anderson Live would give credence to this type of sensationalism and misinformation. This segment is just another case of sensationalizing an already marginalized population plain and simple.
Kiesling continued by saying that though "Cooper and his team have earned a great deal of respect from trans people for their coverage of our issues," this latest endeavor "throw[s] all of that away." "They seem set on misinforming the public about the causality of trans identity," she said.
If you agree, NCTE is asking supporters to tweet the following message: "I share @TransEquality's disappointment in @anderson for sensationalizing #trans lives. http://act.ly/62x #lgbt RT to #KeepAndersonHonest".
Watch a promo for Cooper's show AFTER THE JUMP.