Vice President Joe Biden spoke to the mother of a transgender woman shortly after leaving a campaign office in Sarasota Florida, according to a VP press pool report obtained by Towleroad: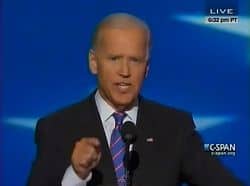 He singled one woman out who he thought had beautiful eyes. She said something to her at first inaudible to pool, to which VP responded was the "civil rights issue of our time"
Pool later asked the woman, Linda Carragher Bourne of Sarasota about the exchange. She said her daughter was Miss Trans New England and asked if he would help them.
"A lot of my friends are being killed, and they don't have the civil rights yet. These guys are gonna make it happen," she told the pool.
Chris Johnson at the Blade adds:
According to LinkedIn, a Linda Carragher Bourne works as a freelancer writer in Sarasota and is an editor a Self Magazine, an magazine for women's health and fitness. The most recent winner of Miss Trans New England, according to the pageant's website, is Nicole Hamidi.
It wasn't immediately clear whether Biden's reference to the "civil rights issue of our time" was meant to indicate LGBT discrimination in general or, more specifically, transgender discrimination.