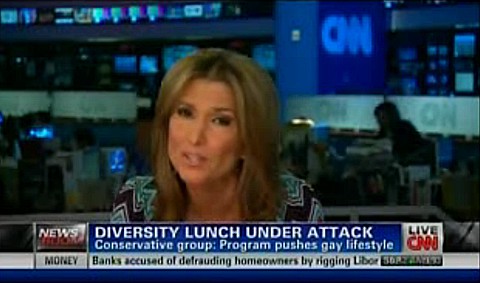 CNN's Carol Costello confronted AFA radio host Bryan Fischer over his and the group's hate speech during an interview about the SPLC's "Mix It Up Day" which encourages tolerance. Students are encouraged on that day to sit and eat lunch with someone they normally wouldn't.
Said Fischer:
"…what parents need to understand, this is about pressuring public schools and students in public schools to accept homosexuality as a normal, healthy alternative to heterosexuality. It's interesting to me they're doing this on October 30, the day before Halloween, and what this program is, it's like poisoned Halloween candy. Somebody takes a candy bar, injects it with cyanide, the label looks fine, it looks innocuous, it looks fine, it's not until you internalize it that you realize how toxic it is. And we want parents to be aware that any program that any program that comes from the Southern Poverty Law Center is going to be toxic to their students' moral health. "
After that exchange, Costello questioned Fischer about the AFA being labeled a hate group and as Fischer started down the road alleging Hitler was gay and the Nazis were homosexuals, Costello ended the interview.
Watch, AFTER THE JUMP…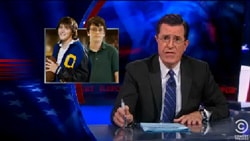 In related news, Stephen Colbert applauded the AFA for standing up to "Mix It Up Day" (watch at 3:30 in the following clip).
"The next thing you know, Timmy and Bobby are making monkey butter."
Fischer was, of course, completely serious while Colbert was, Colbert.
Watch, AFTER THE JUMP…